Friday 11th June 2021
The Latest News from the Golf Club
As we bid farewell to a rainy May it looks like summer may have officially arrived! There's lots to look forward to at the club over the next few weeks, as we embark on a spectacular Summer of Sport which began with Euro 2020 on 11th June.
It's been wonderful to have welcomed so many of our members back to the Club recently, bringing the energy we've all missed so much.
Our terrace and clubhouse certainly felt the impact of indoor dining returning on 17th May, and table service is proving challenging with the volume of members and visitors supporting the club.
We are currently on a significant recruitment campaign to bring new faces to the team as we look to build upon our core team. You may have read in the press that the industry across the UK is suffering quite badly at the moment. The demand for F&B staff has greatly impacted our food and drinks suppliers, both of which are the largest in the country. Please be assured we are doing everything we can to reduce any negative impacts on your visit - however at certain times we may have to offer a reduced menu or kitchen opening times. Unfortunately due to when we receive information from our suppliers we may be unable to give as much advance notice of this as we'd like. We're currently setting up accounts with alternative suppliers to help reduce this impact, and hope to be able to return to normal service shortly. If you happen to know anyone in the local catering world looking for a change of scenery, I would be happy to offer a "finder's fee" of £150 to your membership card to spend in club. Please contact me directly.
Recently we launched our new feedback platform FeedItBack, and it has been great to see the level of member engagement this is bringing. Despite being busy in the clubhouse the team have received some nice feedback which has been very encouraging.
Course Report
Two of the driest months ever seen at Woodbury during March and April were followed by the wettest May ever, with nearly 6 inches of rain in 14 days. The course has dried up nicely and it won't be long before the irrigation is up and running again.
The new flags are out on the course and looking good with the new Club Company logo.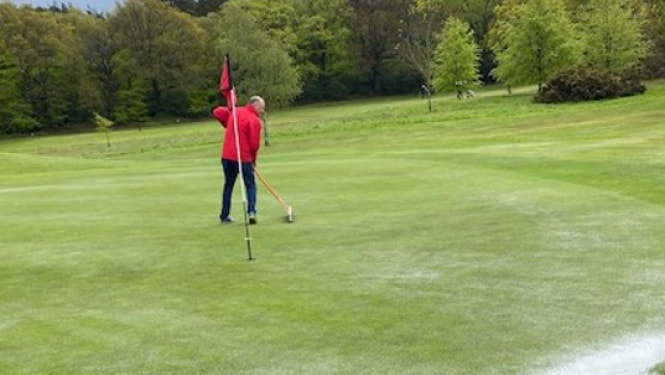 An update on the leather jacket situation - various greens have been pecked by birds looking for the grubs, but as yet damage to the surface has been limited to isolated spots, and we continue to monitor the situation daily.
Greens on both courses will be top dressed again next week and will continue to receive a monthly 10mm solid tine.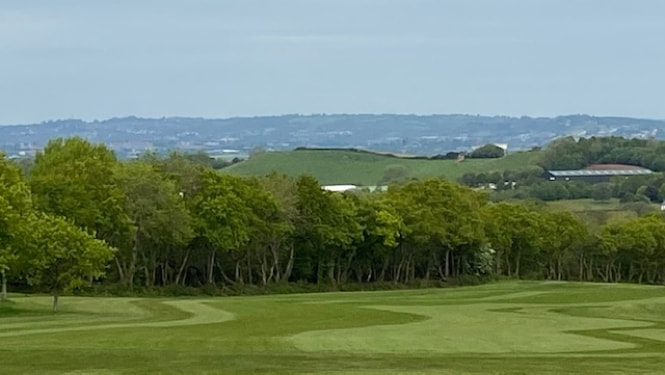 Competition News
The wet conditions in May didn't prevent some excellent golf being played last month, starting with:
PGA National Pro-Am Qualifier, Saturday 1st May: Colin Gray had an excellent 43 points narrowly pushing Trevor Dare (41 pts) into 2nd place. Colin went on to play in the regional qualifier with Peter Laugher on 10th June.
Badger Bowl, Saturday 8th May: The Men's winner was Alex Freer, with a nett 72 who beat David Whip on a card play-off. The Ladies' winner was Zoe House with a nett 73, and in second place was Kate Blake with a nett 77.
Atkinson Memorial Plate, Saturday 22nd May: Callum French took the Men's title with 39 points, just beating Jack Greenslade by a single point. Bridie Higgs won the ladies title with 32 points, just one more point than Kate Blake who again finished runner up!
Presidents Day, Saturday 29th May: A great event as usual, hosted by Sir John Evans. The generosity of our members helped the Captains Charity, Devon Air Ambulance, benefit by over £1100 on the day. Thank you everyone for helping and contributing to a marvellous day. The Men's prize was won by Paul Wright after a card play-off with Chris Boyce and Richard Thomason, who all had 39 points. Victoria Varley was the successful lady; her 34 points saw Zoe House into runner up position with 32 points.
The men have been playing in their inaugural year of the Dartmoor League, winning the first match against Sidmouth and also defeating Thurlestone in the Knock-out Competition. Team Captain Duncan Ratley has certainly played a blinder so far, picking two winning teams and even taking to helping out the players on a particularly wet day with a squeegee to ensure they could put out!
Coming up in June:
Following The Netherton Trophy on 12th June, look out for The Mitie Cup this Saturday 19th June.
Saturday 26th June is Captain's Day celebrating with Joe Hibberd our Captain, Marleen Johnson our Lady Captain and Ian Fry our Senior's Captain. Once again, I'm sure they will need some assistance on the day so if you are available let me know by emailing [email protected]
Pro Shop update
By now most of you will have met the new member of our Pro Shop Team Greg Withington, who has settled in well and is doing an excellent job a few weeks in.
Over the last few months, we've been looking at adding Course Rangers to the team and I have now offered two positions within that team. We hope you will be seeing them out on the course and starting you off in the next few weeks. Their main objective will be to ensure a consistent pace of play, in line with our aim of getting 4 balls around the Oaks in 3 hours 50 minutes. So please help us to ensure everybody enjoys their game of golf by playing "Ready Golf" and be mindful of others playing quicker than your group - if they are, please let them through!