Thursday 11th November 2021
We certainly said goodbye to October in style with our revised golf captain's year kicking us off in style on Sunday 31st at the annual Captain's drive-in. This capped off a busy social week for the club following the annual presentation evening on 22nd which was very well attended, and then our annual fireworks evening on Friday 28th.
The fireworks were watched by approximately 700 people who all enjoyed a spectacular show put on by our fireworks partner, Sonic. It was fantastic to see so many members as well as those from the local community, not to mention the children enjoying themselves with face painting and a jump around on the bouncy castle!
The weather for the most part of October was very kind to our golfing members, with usage up 40% on both courses from 2019.
Pulse Bar, Cafe and Bistro
I am delighted to announce that the Pulse Bar is now open from 8:00am daily serving breakfast, light snacks, coffee, smoothies, lunch and dinner. Our Clubhouse has now reverted to the winter opening hours of 7:30am to 5:00pm daily.
Festive events
As we draw closer to the festive season, we have a great number of events on offer from lunches and dinners right through to our spectacular New Year's Eve dinner and dance. With a live band and a bagpiper to see us into 2022, it's sure to be a wonderful and memorable evening. We hope to see you here!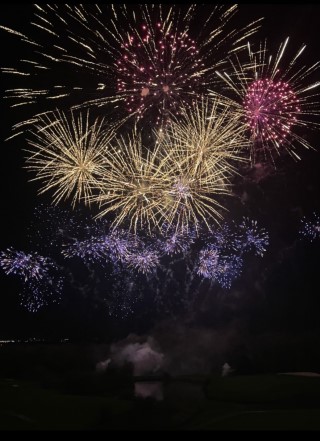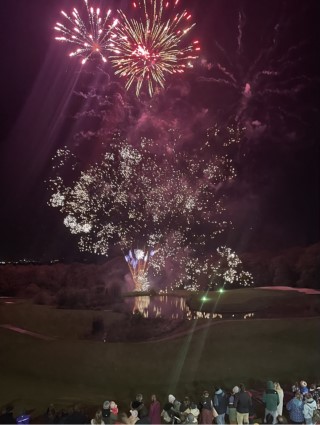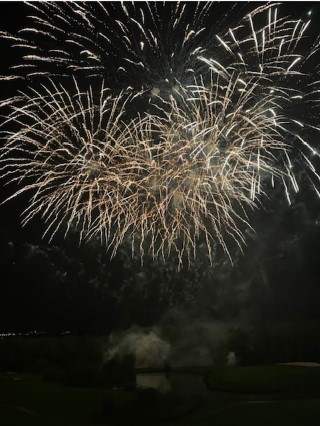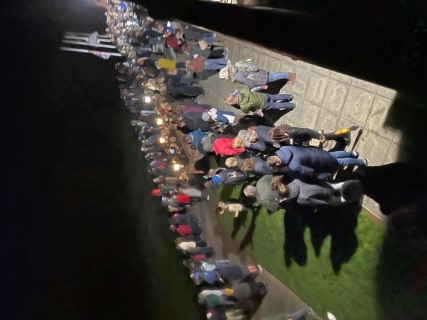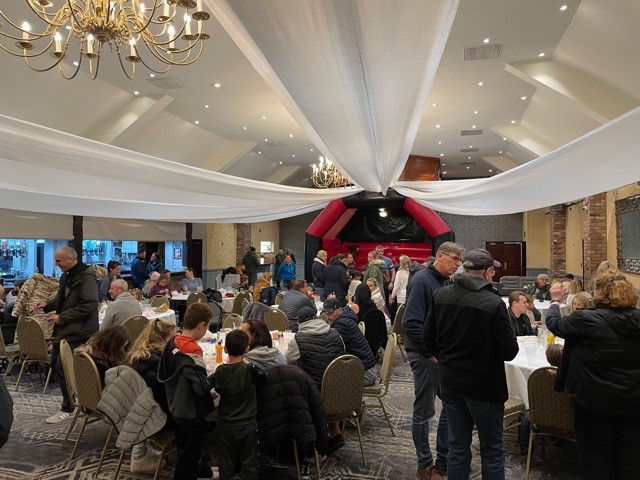 Course Report
The wettest ever October recorded 205mm of rain. Sadly this resulted in a few course closures and some restrictions on trolley and buggy usage, so please keep an eye on the daily course message sent out by the Greenkeeping team. If you do not receive this message you need to visit https://woodburypark.intelligentgolf.co.uk/click on the 'MY GOLF' tab then 'Preferences' and turn on the items you require.
We are now fully into winter golf at Woodbury with many holes becoming very wet. The 2nd hole will go to a par 3, with other holes to follow depending on the weather. This month we have managed to carry out large amounts of mole drainage on some of the problem areas. This involves pulling a bullet through the ground to create a channel for water to move.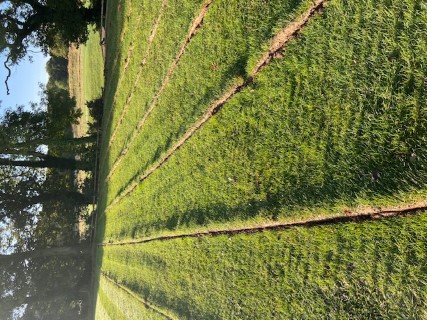 Greens
We have now moved to hand mowing greens at a height of 5.5mm for the winter. We've applied fungicides to prevent fusarium disease from taking hold of the greens. and at the time of writing surfaces are fairly clean.
We are looking to start using a product called Acelepryn. The product is designed to combat the ongoing problem with leatherjackets and is one of only 2 products available to greenkeepers in the UK. Timing is crucial and weather windows are very small; the product needs to be watered in so if you see sprinklers running don't be alarmed. Remembrance Day flags have now been placed on the course - let's hope the weather improves so they can be seen.
Acorns 2nd hole
We have removed and replaced the lake exit pipe to allow the levels to drop, as it had reached higher than ever before due to tree roots blocking it.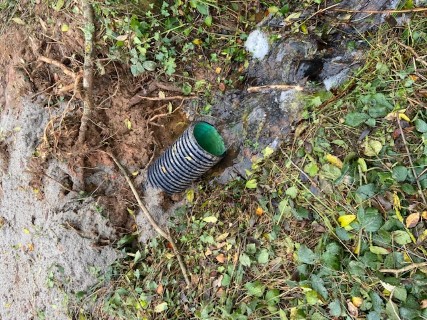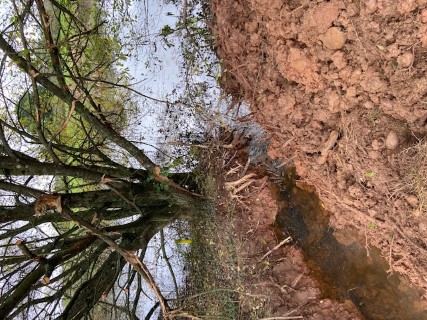 General Course Information
Trollies and buggies are now on paths only and are likely to remain off for the winter, with a total trolley and buggy ban on the Acorns. 2 sets of tees on the Acorns have been removed for the winter.
Golf Events
October was a busy month with lots of events – here are some of the highlights.
Presentation Night on Friday 22nd October
This is the climax of the golfing season where the winners of our prestigious club competitions are presented with their trophies and replicas/mementos at a celebration dinner held in the Greg Norman Suite. While we were unsure about how many people would attend, we had an amazing 92 in attendance on the night with the men in black tie and many ladies dressed in their finery. This was one of the first events we have held since lockdown and the room looked amazing! The majority of our major winners and Club Champions attended, and after a 3-course meal, they took great delight in being presented with their trophies in front of a room full of applauding members.
It was a great night and you can see the photos on the information page on Intelligent Golf.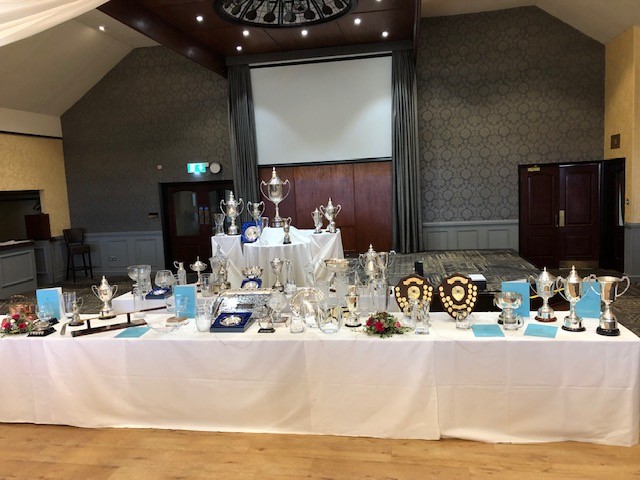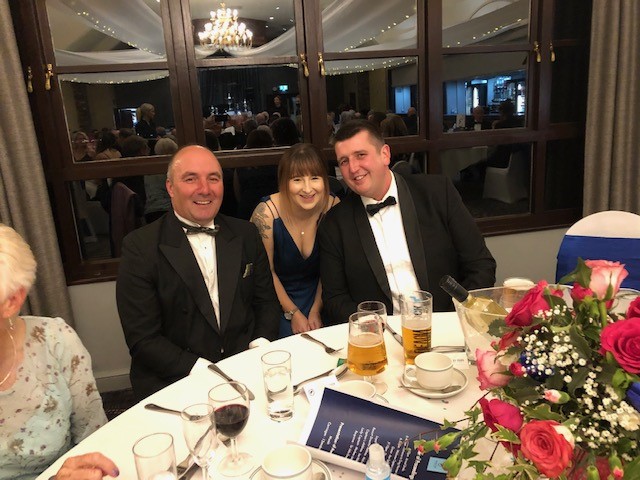 Golf Competition AGM
This was held in the Oaks Room on Monday 25th October chaired by our club President Sir John Evans, although sadly was not attended as well as in previous years. Several members of the committee came to the end of their two year term. A huge thank you must go to Graham Bryant and Barrie Thomas, both of whom have completed over 20 years' service on the committee, and Kate and Adrian Blake along with Gina Cox also completed their term - again a huge thank you to them for all their hard work running golf competitions and handicaps over the years.
There were three positions available for members to be elected into, and there were nominations of Dave Freeman for the post of Treasurer, Paul Wright for the post of Handicap Secretary and sadly no one for the new post of Committee Operations Representative. Mr Freeman and Mr Wright were duly elected and the committee will be looking to co-opt a member into the vacant post of Operations representative. Could you be that person? If so please contact Peter Laugher at [email protected] to find out what is required.
The Captains Drive-in on Sunday 31st October
This is another of the major events in our golfing calendar, where our 2020 Club Captains finish their term and our Incoming Captains take office. Joe Hibberd (Captain), Marleen Johnson (Lady Captain) and Ian Fry (Seniors Captain) completed a longer than usual term after they were encouraged to continue following the interruption of Covid. They have been amazing as your Captains in what has been the strangest and scariest two years probably in our lifetime. Their charity was the Devon Air Ambulance; sadly, again due to covid, fundraising activities have been somewhat curtailed and yet despite this, with your help they still managed to raise an amazing £5000, which was presented to Valerie Shaw from the charity.
The Captains' change over date has been moved from the end of January, when the weather has traditionally been against us, to the end of October where we hoped we would have had better weather. Ironically, we had to abandon the Texas scramble competition due to the amount of rain falling the week prior!
The format on the day would normally have been the morning competition followed by the "Drive In," which I feel is done uniquely at Woodbury Park. The outgoing Captains putt out from where the tee shot finished on the 18th green after their opening tee shot - in this case from back in January 2020. Then it is the turn of the incoming Captains Pete Lawrence (Captain), Hilary Richardson (Lady Captain) and Ken Todd to tee off on the 18 th over the lake - pressure indeed!
All three, with a crowd watching from the Clubhouse Terrace, put the nerves behind them and put a good swing on their shot. Hilary and Ken did not quite make the putting surface but Pete made a good swing and finished 6 feet 8 inches from the hole.
Following what would have been the competition prize-giving, a raffle was held to guess the distance of each shot, another for a car parking space for a year and an auction was conducted by Vice-Captain Duncan Ratley for another year-long car parking space. This combined with the funds collected for the flowers on the tables resulted in an amazing £1100 to kickstart this years' Captains Charities fund. The nominated charities are Prostate Cancer for Pete Lawrence and FORCE, a local Exeter cancer charity, for Hilary Richardson.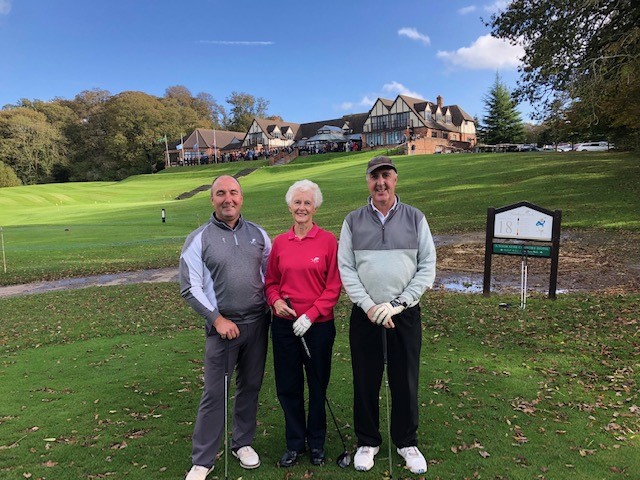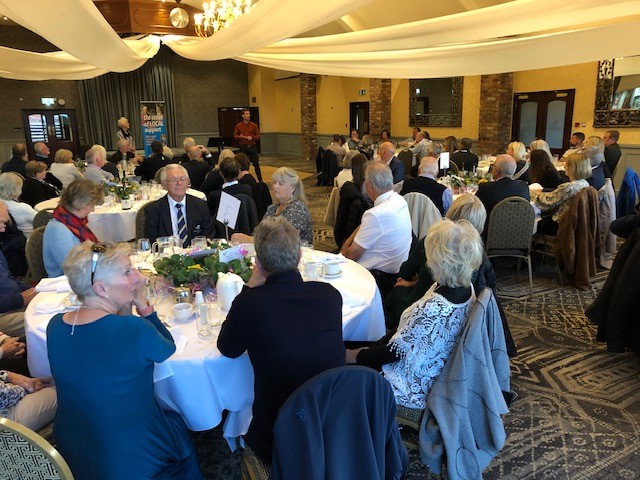 Competition report
With all our major competitions completed in September the most noteworthy event that has not already been reported was the success of a three-man team from our Dartmoor League squad who won the Dartmoor Shield at Teign Valley Golf Club on 17th of October. The winning players were Duncan Ratley with 39 points, Jason Edmond with 36 points and Jamie Davidson with 33 points. Congratulations!