May 2022
Rainfall for April was a total of 19 mm - a very dry month meaning growth rates are very slow across all surfaces on the courses.
We are very much into 'spring' mowing regimes now even with the limited growth to try and increase presentation and keep on top of surfaces. I believe the courses are starting to wake up and soil temperatures are increasing by the day.
We managed to complete the mole ploughing of a new irrigation cable into the main putting green. This had an electrical irrigation issue many years ago and was being manually watered, but with the new cable in the ground it is now back on the automated computer system.
Completed Work for April
Tees and approaches received a slow-release granular fertiliser
Acorns greens had a spring maintenance on 7th April consisting of verti-draining, scarifying and topdressing
A new moisture meter has been purchased to help us irrigate more effectively / efficiently across the greens
Irrigation system had small fixes and leaks repaired – this is ongoing
Selective herbicide spraying has started with all Oaks Course green surrounds, tee tops and tee surrounds, football pitch and Acorn Course fairways
Mole ploughed a new irrigation cable into the main putting green, getting it automated on the computer irrigation system
Topdressing of all greens with a light / regular dusting of sand to help true surfaces, dilute thatch and improve drainage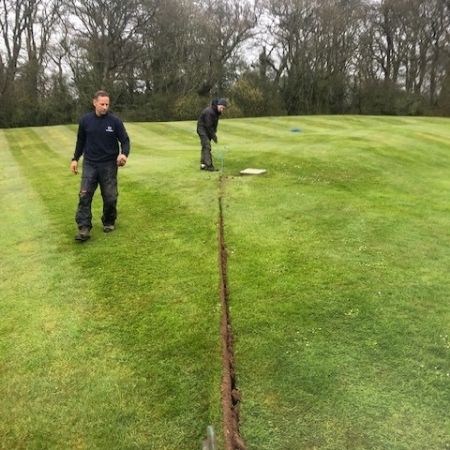 Planned Work for May
Greens to receive a soluble and liquid fertiliser application
Acorn tees and approaches to receive a slow-release granular fertiliser
All bunker edges to be strimmed / edged and sprayed with a selective herbicide and plant growth regulator
Selective herbicide spraying to continue in roughs
All sprinkler heads to be trimmed and edged
Height of cut on greens to be reduced to summer heights
Topdressing of all greens with a light / regular dusting of sand to help true surfaces, dilute thatch and improve drainage
Greens shapes to be tweaked in relation to irrigation sprinkler head positions, slopes and known areas that are prone to drying out